The First 28 Missions
The men that made up the crew of Naughty Norma knew that they had to complete a total of 30 combat missions before they would be allowed to go home. The 8th Air Force had been loosing planes and crew at a remarkable pace. You did not have to be a statistician to determine that the odds of survival were not good. Knowing that there was a real good possibility that he would be shot down, Dad sent a letter to Lucille McKinney saying that "If I get shot down, you are going down with me". He carried her picture with him on every mission. She would later become his wife and my Mother.
It was the custom at the time that the pilot and the navigator would take an "experienced" crew when they went out on their first mission. This put John Forsyth and Brenard Prueher one mission ahead of the rest of their crew. They made that first flight on February 21, 1944.
My Dad's first mission was on February 24, 1944. (see Mission Log) That day there were 23 planes that went out and only 16 returned. Out of the 2nd Section which sent out 10 planes, 6 of them went down. Only 4 made it back. I can't imagine the fear they must have felt knowing that they had to somehow survive 29 more missions before they could go home. The odds were not good but there was a job to get done.
As the engineer, Dad stood between the pilot and copilot on the flight deck. If the pilot wants a change of settings it was his job to change it. If something didn't look right Dad was to tell the pilot. Dad would change gas from one tank to the other. From his position on the flight deck, Dad could step back and stand on some stuff and hoist himself up and grab guns to shoot. He could turn 360 degrees. Prueher said Dad would rather shoot than stand down there on the flight deck. Most of Dad's time was spent taking care of those 4 engines.
Bernard Prueher was the navigator. He stood further back. Prueher said that he and Dad would pat each other on the back and wish each other luck on every mission. They never failed to do this. There were a couple of times when Prueher started going down in the hole where he worked and there was Dad waiting for him to say goodbye. It was just one of the things they never failed to do. Prueher also said he had a 4 leaf clover and a picture of Kay (the gal he would later marry) that he put in a certain spot on his desk. He said there were just certain things you didn't want to change.
He had to craw down in a hole in the nose of the plane to get to his desk which was about the size of a briefcase. He stood at the desk and had about 20 maps about the size of a normal size living room. When he looked straight ahead, he could see the pilot and copilots feet on the pedals. Their feet were at his eye level. He was down in the nose of the plane. There was also a window that he could see out of when he was standing. From here Prueher would take his sections and take shots of the sun. He said they were always going either east or west with no stars. They were either going East to Germany or West back to England. He said that he never did shoot a fix on the stars, they never flew at night.
Dad never talked much about the war but I do recall hearing him tell a visiting friend about something that happened on one of the missions. I have no idea which mission he was referring to but it very well could have been his first mission. According to Prueher's personal log, "Rhodes got Me 110".
Dad told the story about a time when they were attracted by German fighters. He was at his position as top gunner with his machine gun and shot one of them down. Apparently the fighter would have been somewhat above them in order for Dad to get a good shot. In any case, the fighter was doomed to going down. As the burning plane started it's decent, it approached the same altitude as Naughty Norma. This put the plane at eye level with my Dad. By this time the German pilot had made his arrangements to parachute out. He stood up in the plane and looked directly at my Dad. Dad said he could have easily have shot him but that would have been murder. The plane was going down. It was no longer a threat. The fight was not with this man.
The two men's eyes were fixed on each other. After a few seconds the German realizing that Dad was not going to shot him, saluted Dad as if to say "Thank you my friend. You are a man of honor" and jumped out of the plane. When two planes are shooting at each other it is war. When two men face each other and one has no way to defend himself, he suddenly becomes another human being. He is an individual. He is someone with a mother and father, a family, a sweetheart and a soul.
I have often thought of this German pilot. Did he make it safely to the ground? Did he ever fly again? Did he ever tell this story to his family? Did he ever tell anyone of the American airman that spared his life? Was he ever in a situation where he could return the favor? I'm sure I will never know the answers to these questions but I know I'm mighty proud of my Father. He was a man who even in the face of war, had a heart of love for a man he did not even know his name.
After every mission the crew was debriefed and then went to eat. Usually it was late in the afternoon by the time they got to eat. Many times Forsyth and Prueher would stop and have a drink. Burroughs did not drink. They would set around and talk about the mission. Prueher would take out a pencil and paper and write down what happened that day in as few words as possible. That personal "Log" can be viewed by clicking here.
It is not known how many times in all Naughty Norma was flown in combat by Lt. John C. Forsyth and his crew but I have traced it on the following dates in the very incomplete 389th BG mission data that I have:
Feb. 21, Mar 15, 16, 18 (aborted this mission for reasons unknown) & 20, Apr. 8 & 29 and May 25.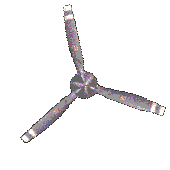 John C. Forsyth Missions
| | | | | | | |
| --- | --- | --- | --- | --- | --- | --- |
| | Month | Day | Target | Aircraft | Aircraft Name | Call Letter |
| 1 | Feb. | 21 | Osnabruck | | | |
| 2 | Feb. | 24 | Gotha | | | |
| 3 | Feb. | 25 | Furth | 42-100167 | Yours Truly | L+ |
| 4 | March | 9 | Brandenburg | 42-100190 | Princess Konocti page 14, 37, 178 | J+ |
| 5 | March | 13 | No Ball | 42-100281 | Naughty Norma | D+ |
| 6 | March | 15 | Braunschweig | 42-100281 | Naughty Norma | D+ |
| 7 | March | 16 | Fredrichshafen | 42-100281 | Naughty Norma | D+ |
| 8 | March | 18 | Aborted | | | |
| 9 | March | 20 | Frankfurt | 42-100281 | Naughty Norma | D+ |
| 10 | March | 26 | Siracourt | 42-100281 | Naughty Norma | D+ |
| 11 | March | 27 | Pau | 42-100281 | Naughty Norma | D+ |
| 12 | April | 8 | Braunschweig | 42-100281 | Naughty Norma | D+ |
| 13 | April | 9 | Tutow | 42-100281 | Naughty Norma | D+ |
| 14 | April | 11 | Oschersleben | 42-100281 | Naughty Norma | D+ |
| 15 | April | 18 | Rathenow | 42-100281 | Naughty Norma | D+ |
| 16 | April | 19 | Paderborn | 42-100281 | Naughty Norma | D+ |
| 17 | April | 20 | Wizernes | 42-100281 | Naughty Norma | D+ |
| 18 | April | 24 | Gablinger | 42-100281 | Naughty Norma | D+ |
| 19 | April | 28 | Mimoyecques | 42-94996 | Liberty Belle page 169 | |
| 20 | April | 29 | Berlin | 42-100281 | Naughty Norma | D+ |
| 21 | May | 1 | Brussels | 42-100281 | Naughty Norma | D+ |
| 22 | May | 7 | Osnabruck | 42-100281 | Naughty Norma | D+ |
| 23 | May | 8 | Brunswick | 42-100281 | Naughty Norma | D+ |
| 24 | May | 9 | Florennes | 42-100281 | Naughty Norma | D+ |
| 25 | May | 20 | Rheims | 42-50335 | None | A+ |
| 26 | May | 23 | Orleans/Bricy | 44-40247 | Homing Pigeon? | R+ |
| 27 | May | 24 | Orly | 44-40247 | Homing Pigeon? | R+ |
| 28 | May | 25 | Troyes | 42-100281 | Naughty Norma | D+ |
| 29 | May | 28 | Merseburg | 42-100281 | Naughty Norma | D+ |
| 30 | May | 29 | Politz | 42-94973 | None | F+ |
p 16 of Liberator Album - 42-100167 My Tuffy discards her ordnance over the target during the winter 1943. b-24j-75-co 420100167 from 566th BS was written off due to severe battle damage on 9th march 1944.
42-100190 Princess Konocti Pg. 14, 37,178
42-94996 Liberty Belle Pg. 169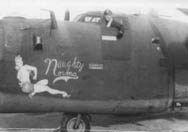 Forsyth Forsyth Burroughs
Count the missions
This picture was taken after the aircraft had flown 11 combat missions (see bomb symbols on the armor plate below the pilot's side window). It was not necessarily flown by the Forsyth crew on all of these. It is likely that it was flown occasionally by other crews in the same way as the Forsyth crew flew B-24J-80 CO 42-100190 J+ "Princess Konocti" on Mar 9 (coincidentally, this also landed in Sweden but at Halmstad on Jun 20 when the target was again Politz).
On Easter Sunday, April 9, 1944, the crew flew their 12th mission. In the book about the life of Father Gerald Beck, White Flak by Jane Beck Sansalone, is a cute story surrounding what would be one of the worst missions they would be on. Charles Kellis tells the story on pages 123-124.
"We were assigned to the 566th Squadron of the 389th. The enlisted men were billeted in Seco Eight. There were two or three men (instructors) still remaining from the Ploesti mission there.
Father Beck spent some time in this barracks. He came from Cincinnati and I came from Hillsboro just 50 miles away. I was not very religious and he was always on me about that. On Ap;ril 9, 1944, Easter Sunday, we were to go on a mission to Tutow, Germany. I decided to attend the service before the mission as we would not get back in time for church. I was wounded on that mission and in the hospital for some time. Later, when talking with Father Beck, I said that he and those other two chaplains did not have much pull with the "Man upstairs." He came back with, "Think what would have happened if we hadn't put in a good word for you."
Kellis was in the hospital a couple of weeks. According to John Forsyth, "Every time flack would hit underneath splinters would come up and hit him (Kellis) in the butt." When he got out of the hospital, he was on emergency leave for a while. Meanwhile the rest of the crew was still flying missions. That put Kellis nine missions behind the rest of the crew.
Then somewhere around April 12th the crew was given a 3-day pass because Kellis was in the hospital. Forsyth, Burroughs and Prueher went into the town of Norwich to get a "decent meal and a warm bed". They felt like they were in Heaven as they crawled into bed with a feather mattress and clean white sheets. In fact, they didn't even undress before they crawled in.
Prueher recalls that he was asleep just as soon as his head hit the pillow. It seemed as though it was just a second later that a couple of Sergeants and a Corporal were shaking him to get up. They said the Commander wanted him back at the base to fill in for a sick navigator on another crew. Forsyth and Burroughs were asleep and didn't even know Prueher was gone until the next morning.
They took him back to the base in a Jeep. He said he nearly froze to death. That extra mission put Prueher one ahead of Forsyth. Prueher got back around 3:00 PM and went to the hospital to see Kellis. He said, "When Kellis got hurt, that's what saved me from going to Sweden".
April 29, 1944 was Prueher's 29th birthday. He was "the old man" of the crew. On this day, he flew his 20th mission. After the initial briefing there is a second briefing for the navigators. It is much more detailed. There were about 20-22 navigators at this briefing. The next briefing is for the pilots. As Prueher was walking away from the meeting, there sat John with a couple of nurses. Someone said, "Happy birthday big B". The two nurses were stone faced. They didn't want anything to do with big B. Apparently the expression on their faces struck John as really funny and all he could do was laugh.
Prueher recalls that he was to "censor" the mail of the crew to make sure that there wasn't anything being sent back to the States that shouldn't be. He said, "That was no fun at all". He didn't like reading the other guy's mail. He would get about a dozen letters a day from the guys. If they didn't get censored that day, there was twice as much the next day. It was a big job. So after about the first week or less, he would just stamp them with the rubber stamp and sign it saying that they were OK and send them. He figures that most of the other people did the same thing. He said it is kind of hard to censor you own mail. He sent mail back to Kay telling her about all the missions, etc. He said she was not supposed to get them and he was not supposed to send them. She kept all of his letters. I believe their son has them now but I'm not sure. He said it is hard not to approve your own letters.
On May 28, 1944 Naughty Norma was hit hard. They completely lost one engine and the rest of the plane was not in good shape. It was "crippled up" real bad. Never the less they made it back to England. This made the 30th and final mission for Prueher. (Click here to see Prueher's personal mission log.)
At one point you were finished after 25 missions. When Gen. Dolittle took over the 8th Air Force, he changed the requirements to 30. Before the war would be over that number would go up to 35. There had been 10 crews assigned to the 389th that had come over at the same time. By now five of them had been shot down. There were only five left. Because of all of the heavy losses, Prueher was the very first man to complete all 30 missions. That was cause for celebration. They went to the officers club and all of the other crew officers were waiting for him. Everyone knew Prueher and wanted to buy him a drink. He didn't refuse. "I was never so drunk in all my life," Prueher recalls. Forsyth didn't drink much that night. He knew he still had one more mission to fly in the morning.
Because some of the crew had been replaced with other men, there were a total of 4 that only had one more mission to go. Prueher would have liked to gone up again to be with Forsyth and the other 3 to be with them on their last mission but Forsyth would not hear of it. He said there were just too many men that had died going up on just one more and he didn't want anything to happen to Prueher. According to Prueher he was not in any condition to go up that next morning anyway.