The Stay In Sweden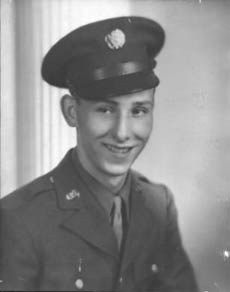 "You had a good Father I'll tell you that." - John Forsyth
Sweden
May 29 - Dec. 22, 1944

Forsyth, Burroughs, Meads
Kellis, Rhodes, Mulqueeney
(Their first set of civilian clothes.)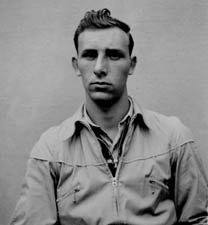 Taken shortly after Dad got out of the hospital.
Harold had several pieces of shrapnel and/or Plexiglas surgically removed from his neck. At least one piece was not able to be removed because of its location to vital arteries. As a side note, Dad's nose was never straight. Somehow I had thought that it was crooked because of his injuries in the war. It wasn't until I was talking to one of the crew members that mentioned Dad's nose as being broken boxing or something. I found that hard to believe. It was a war injure I was sure. I mentioned it to my sister as I was telling her about the conversation and she said he broke it playing football. How could this be? It was a war injure. Now I had to know for sure so I asked Mom and guess what, he broke it in High School playing football! Had it not been for my contact with the crew, I would have always thought it was from the war. Only goes to prove you don't know what you don't know.
After leaving the hospital, he was asked to assist with some repairs on damaged aircraft. Apparently they had to switch some engines and word was out that Dad was great with them. He joined the other crew members in Loka Blunn later. Regarding Dad, Forsyth said "He was good I'll tell ya. He was a top engineer. He could do just about everything. You name it, he was doing it."
I am not sure of the exact timeline as to what Dad did right after he got out of the hospital. I guess I'm not even sure where the hospital was exactly. In any case, here is what I believe happened. When Dad left the hospital he caught up with the rest of the crew at Loka Blunn.
I made contact with George Worthington. I found out some new stuff from him. George was with the 492nd. They had left on a mission the same morning that Dad did the day they were shot down. After Geroge's crew had compleated their mission, something happened that caused them to end up in Sweden as well. George ended up at Loka Brunn too. He arrived there May 31. He said that he was only there about 3 months and even though it was a nice place and very beautiful, there really wasn't much to do. It must have been somewhere around the middle of July that a Major from Stockholm came and asked for volunteers. At first they weren't told what it was for but he figured whatever it was, it was better than staying there and being bored. I believe they were only looking for engeneers but I'm not sure. There were about 35-40 from Loka that volunteered.
This is where the story is still a little fuzzy. George told me that they left Loka and went to a Swedish Cadet training center in Vasteras. However, George has two photo scrapbooks from his stay in Sweden. You can look at those scrapbooks here. Scrapbook 1 and Scrapbook 2. According to the note at the start of the first scrapbook it sounds like they went from Loka to Goteborg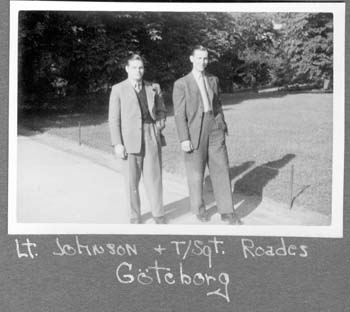 According to the note in the front of the first scrapbook, on July 26, three of them; George, Dad and Lt. Johnson went to Goteborg. The Lt. was from Stockholm. Goteborg was the second largest city. It kind of looks like maybe they went from Loka to Goteborg. So I don't know if they had gone to Vasterasfirst or not. In any case, when they got to Goteborg they found and worked on a plane and got it ready to fly. They then went back to Vasteras (may have been Loka) on Aug. 6th. The note in the second scrapbook says that they went to Vasteras on Aug. 18. So I'm thinking they went from Loka to Goteborg and then back to Loka before they went to Vasteras. A crew was put together at Vasteras that went back to Goteborg to fly the plane back to Vasteras. George doesn't remember too much about the plane. He doesn't know the number or it just that it was a B-24. He remembers that it didn't take much to get it flyable. They had a good time in Goteborg. That was the only time that he actually worked with Dad.
Here are pictures from the first scrapbook. I'm sure Dad was with George at the time these were taken.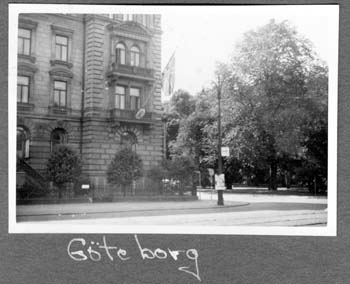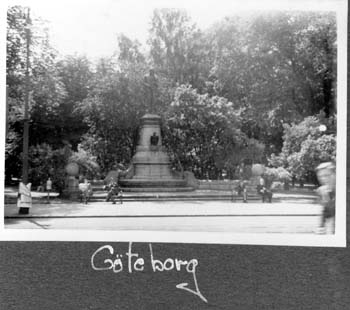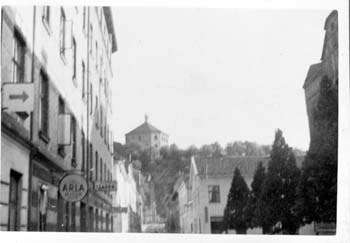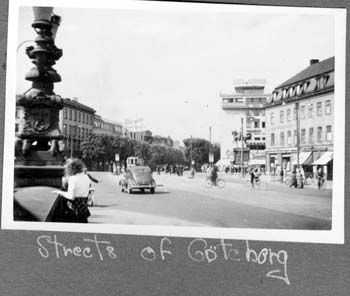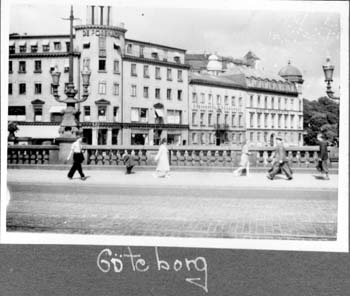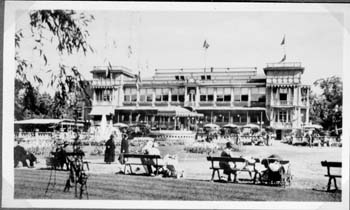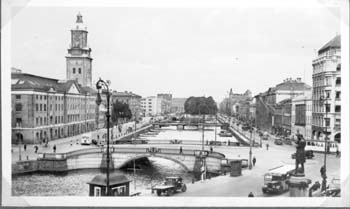 Notice Dad's name on this receipt.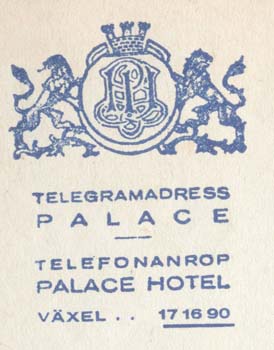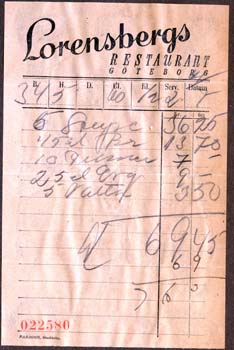 Here are the postcards from Goteborg that were in the scrapbook.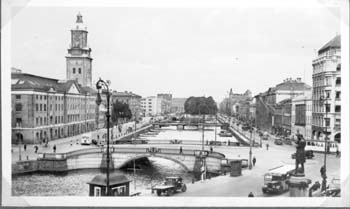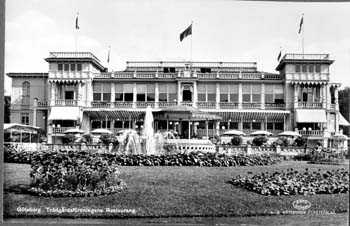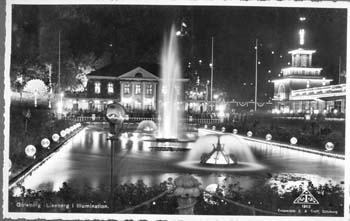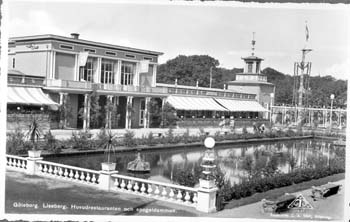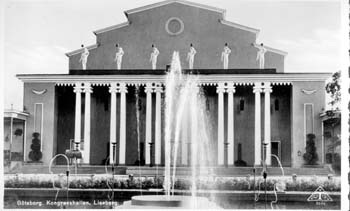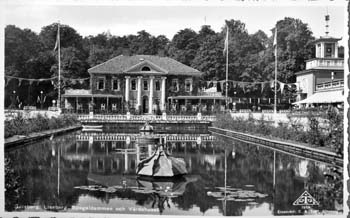 George thought Loka was the only place in Sweden for guys like himself to be kept. However there ended up being 50-55 guys there in Vasteras. Their job was to get all of the planes ready and able to fly again. There were lots of planes of all kinds that had either landed there in emergency or had been brought there making a short flight from where they had landed. All needed some type of repairs. Both the Swedish and American's wanted them working again. There were B-17's, B-24's, B-23's and 109's just to name a few. They worked 8:00 AM-4:00 PM and then went back to one of 3 very nice hotels. I think he said they were bussed. These would be like the Hilton's, etc today. At times they would have to go someplace else to work on a plane. It was one of these trips that he actually worked with Dad. I just don't know the time frame for sure.
In Vasteras there had been 17-24 planes that had made emergency landings there but several others brought in from other locations. When the planes were fixed they would take them up and fly them for 3-4 hours. When they took them up they had to have a Swedish crew with them and they only had enough fuel for about an hour at a time. The thought was, if you gave these guys a full tank of fuel and sent them up by themselves they might just keep on going. George said you would be crazy to want to leave. They were living like kings. They got their full pay, flight pay, hazardous duty pay, etc. They were rich compared to the rest of the people. The exchange rate was 1:4 so they were doing great.
He said that in Sweden you had to be 25 to buy liquor. It wasn't for sale just anywhere. There was a big warehouse where people could go once a month and get their allotments. He said the GI's didn't have any problem getting it whenever they wanted it. They had coupons for sugar, flower, etc that they didn't need and could trade them for whiskey, etc. He said his entire time there he never did see an inebriated GI. He said a inebriated GI can make a bad reparation real fast and that never happened.
Now back to the fixed planes. When they were ready to fly and had been tested they were ready to put in the air on a moment's notice. While on the ground they keep enough fuel in them for about 1 ½ hr but could be fueled real fast.
Sweden ended up buying 10-15 of the B-17's and converted them into passenger airlines. They considered the B-24 as nothing but a flying box or boxcar.
When George finally left Sweden he went to England on a plane, then on a ship to Halifax, Nova Scotia. It was a short time later that it was passed that those interned, etc would be given points that would go towards their discharge. He had enough points so got out in Nov of 45. He ended up going back in in 47 and retired from the Air Force in 67. His life sounded very much like that of Dad's.
I called Charles Kellis and asked him if he remembers meeting George Worthington. He said he has forgotten most of the men from Loka and has not been in touch with them. I told him that George and Dad had worked on B-24's. He said that he knew that Dad "went down" somewhere to work on some and was gone while Sawyer's arm was healing. Then he said that when it started to get colder they were moved to Fallen, then to Stockholm, to Scotland, and then home. That would have been in November.
I said that Worthington was an engineer like Dad. He said,
"I doubt he was like your Dad. There weren't many as good as your Dad."
I told him that everything I have learned about Dad made me proud of him. He said I should be. "He was a fine fella and a competent mechanic. We were blessed to have him on our crew." I told him that together they made up the crew and that each of them had their jobs to do and I was proud of all of them. He thanked me. Said they did what they could. Not sure it did much good. I told him that we don't speak German today. He agreed that had things been different, that could have been the case.
Brenard Prueher had this to say about my Dad. "Boy were we proud of him. He was a top man there was no doubt about it. He was the best engineer that we could have had. Sharp boy when it came to engines. He and John worked perfectly together. He worked with the pilot most of the time when he wasn't in the top turret. On landing he was squeezed right in side of the two pilots. He had a real important job. He was always a step above the rest of the Sgts. He got his first stripe and his second stripe before any of anybody else did. He was a GOOD man. You better believe it."
Dad also helped transfer gas from one tank to another.
George Burroughs

Loka Brunn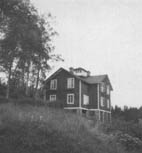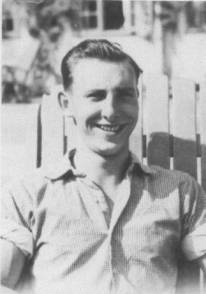 Rhodes

They were moved around a couple of times. For at least some time, the crew made their residence in this rooming house. They were located between two lakes.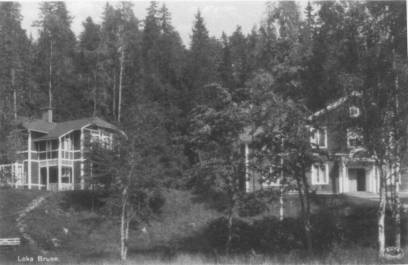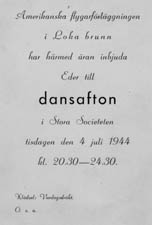 Buildings at Loka Brunn (Theirs on Rt.)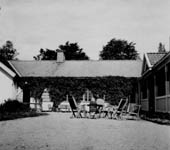 Main Dining hall at Loka Brunn
John and Bernard couldn't stand to eat the food back at Hethel. They both stayed at 129 pounds. George stayed pretty heavy. John weighed 129 two days before they went up to Sweden. . They ate good while at Loka Brunn. Bernard later kidded John about having his vacation in Sweden.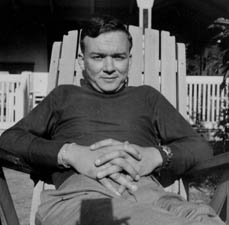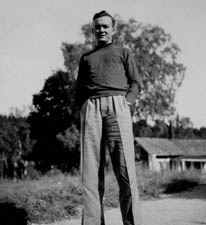 Bob Meads - Loka Brunn

Mulqueeney - Loka Brunn - Kellis - Loka Brunn - Rhodes - Loka Brunn
Forsyth - Loka Brunn - Meads - Loka Brunn - Burroughs - Loka Brunn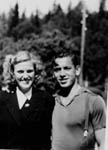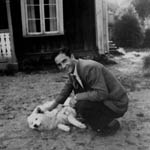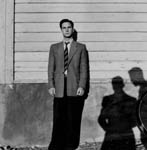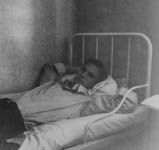 Joseph Tomas Mulqueeny - Ball Gunner after Moore quit.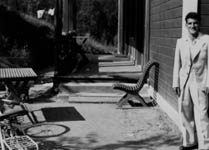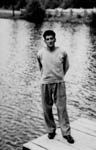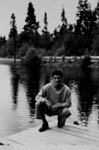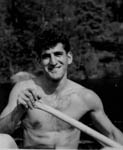 Mike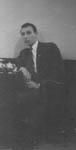 Harold Rhodes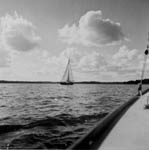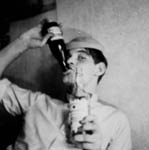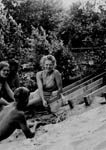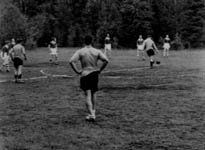 There were some things for the guys to do while at Loka Brunn. They tried to stay busy. They even built docks, a diving board and a 30 foot tower.
One man drowned while they were there. He was not from their plane. He was not on their crew. I don't know who he was.
They also "shot" something at each other, not bullets, as some kind of entertainment. I don't have any details about this.
It sounds like there were some fun times to be had and some things to laugh about. Bobbye Burroughs told me about some of the teasing George later got about his silk underwear. Apparently George, and perhaps some of the other guys, had silk underwear. They would wash them out on washboards but they would stretch every time.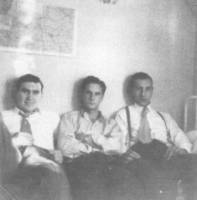 Kellis - Kellis, Mulqueeney, Rhodes - LB Sweden - Mulqueeney, Kellis, Forsyth eating a mid morning Swedish pastries.
Notice escape map. They were keeping track of invasion after D-Day.
There was a colony of German soldiers down the road from where they were about one mile away that had the same situation as our guys. They would get together every now and then. They would be invited to come down for dances and parties.
John just cracked up when he later told Bobbye Burroughs, George's wife, about the time George took a sauna bath. In Sweden you set in the sauna for a while and then run out and roll in the snow. Then you go back in. Well, there was a large Swedish girl that was there to dry George off. Apparently she started drying him off and he thought she was getting a little too close and friendly with the drying cloth. So George took the towel from her and said, "Here, I can do that. I've done it all my life". About that time she whipped it back out of his hands and proceeded to do her job. George's face would get beet red every time someone would tell that story.
All in all, they seemed to have a good time in Sweden.
Karen Cline was in contact with many of the men who were at Loka Brunn for quite some time. She had a newsletter that she sent out to them for a while until she quit getting input for the newsletters from them. You will really enjoy reading those letters. Thank you Karen for all of your work and for permission to have these on the web.
January 1999 Spring 1999 Fall 1999 December 1999 April 2000
Dad's crew left Sweden October 23, 1944 but Dad stayed behind. They had lost track of Dad and didn't know exactly where he was at that time. I'm guessing he must have been in Vasteras still working on planes. They remember that it was not too long before Thanksgiving. The Red Cross made the arrangements for them to finally be able to leave Sweden. They went to Fallat and were taken out at night in a stripped down B-24. Their first stop was in Stockholm and then on to London. All they took was a brief case. They sat in the bomb bay till they got to Scotland. Then they had to stay in Scotland to get the records straightened out for a week or two and they put them on a list to come home. I have copies of the crew's orders. Dad's name is not there. I believe that Dad left Sweden November 15th.
The following is from the book "Making For Sweden" pages 91-93.
"After his return from internment in Sweden to England First Lieutenant Forsyth gave the following account:
'On the morning of 29th May, 1944, I took off on my thirtieth and last mission to complete my tour. The mission was to Politz. Take off time was approximately 0430 hours. We proceeded over the North Sea and crossed the continent between Denmark and the upper German peninsula. Upon crossing the continent and going to the target I lost the supercharger in No. 3 engine. By pulling excess power we managed to keep in formation. After bombing the target I had to keep on the power because the group ahead of us was attacked by fighters. As we took course for England we were over the Baltic sea. I reduced power in order to make it back. I trailed by about two ship lengths when we were hit by about eighteen German fighters (Me 210). We were hit dead at six o'clock and the tail gunner shot down three and two probables.
No. 2 engine was hit and caught fire, feathered, and stopped. No. 3 engine was also hit but I managed to keep it going. The left stabiliser was hit by a rocket and was almost completely demolished. The flaps went down to thirty degrees and all emergency procedures failed to move them. As I was low on fuel I decided to try to make Sweden. The radio was inoperative. We landed at Bulltofta where we were taken into custody by the Swedish authorities. Sawyer and Rhodes who have been wounded were taken to hospital.'
At 1235 hours (LT) the crippled B-24 landed at Bulltofta. Two crew members were taken to hospital with minor injuries. Sawyer was treated for his injuries for two months, and then he was sent back to England. Most of the other crewmembers were interned until November 1944."