The years after Dad retired from the Air Force.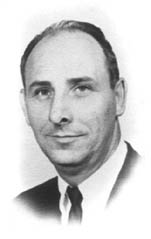 August 1971
In August of 1971 Dad, Mom and Lila went to Anchorage, AK to visit Sheldon who was stationed there in the Air Force. It was a wonderful time together as a family. Harold and Sheldon went salmon fishing together and had the time of their lives. Dad was the guest speaker for group of teens at an Anchorage church. Little did we realize that this would be our last time together as a family.
September 1971
We believe this is the last picture taken of Dad.
On November 6, 1971 a cerebral hemorrhage suddenly took Dad's life. There is no doubt that Dad is now with the Lord that he loved so dearly. He is buried Portage, MI where he was living at the time.
On August 18, 1973 Sheldon married Victoria Carr in Lansing, MI. They now have four children; Karon, Kedron, Kurt and Kenneth.
On January 3, 1981 Lila married Dennis Ragland. They now have two children; Paula and Dusty.

Kurt, Victoria, Kedron, Karon, Ken, Sheldon Lila, Paula, Dennis, Dusty
Click HERE to view the family tree of Harold Rhodes.