Rapid City, SD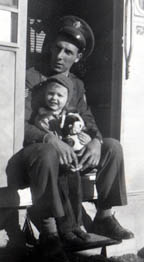 Lucille and Sheldon flew to Rapid City. Lucille got airsick during the flight so one of the stewardesses took Sheldon on a tour of the plane. He even got to visit the pilots.
When they got to Rapid they stayed for a short time at the Longhorn Hotel just off of main street. They later moved into a trailer just north of Rapid Creek.

Harold and his brother Howard meet at their folk's in WV while both men were on leave from the service.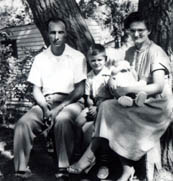 On the 4th of July, 1954 Lila Louise Rhodes was born at Ellsworth Air Force base and the Rhodes family became a family of four.

Dad was gone TDY (Temporary Duty) on several occasions. He sent these silk outfits back from his stay in Guam.
"And we know that to them that love God
all things work together for good." Romans 8:28

Taken in Rapid City, SD in the Spring of 1962 shortly before leaving for Morocco.
Dad was gone several times over the years for two weeks to a month at a time for schooling and training. It wasn't until 1963 that we were separated for an extended period of time. Dad received orders for Morocco. We were going to be going there as a family for a three year tour of duty. All of us had received our shots, sold our house in Rapid City and were ready to go. Knowing that we would not be able to take our household goods, they were placed in storage in Rapid City awaiting our return to the States. We all loved Rapid and did not really want to leave. Little did we know the day we pulled out of Rapid City that this was part of an awesome plan to keep Dad alive. The truth of that would come in the days ahead.
We went to Baltimore, MD to be close to Bertha McKinney, Mom's mother with the thought that Dad would go on to Morocco., find us a place to live and then we would make the trip there. The Lord was good to us and had the trailer right next door to Grandma unoccupied and up for sale. We really didn't need to "buy" a place to live, we only needed it long enough for Dad to find us a place over there. Well, that is what we thought. The owners of the trailer understood our situation and agreed to rent it to us on a month to month basis.
It was only a few days after we moved into the trailer that the main news was about a plane from Ellsworth, AFB in Rapid City, SD that had crashed. In the hours that followed, the details of the crash and the names of those onboard were announced. All of the men on that plane were guys Dad had been working with just a few days before. There was no doubt in his mind that had we not left when we did, he would have been a part of the crew that day. The truth of Romans 8:28 was very clear at that point. The realization that Dad was alive because of the move made being in Baltimore more enjoyable.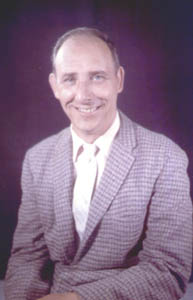 Dad in Morocco
Dad left for Morocco intending to find a place for us as soon as he got there. However he was only there a short time when there was a sudden change in plans. The Air Force announced that they were going to close the base Sity Sudean, Morocco. He was told that as soon as the base was closed, he would be sent to Spain to complete the three year tour. There would not be any need for him to have his family there in Morocco. We were excited about the possibility of living in Spain and waited for the day to arrive when we could go and be with Dad once again. Those plans would soon be changed too.
This scooter was Dad's transportation in Morocco. He shipped it back so that Sheldon could have it to take to school.
As it ended up, Dad was in Morocco almost a year as they closed the base. As it got closer and closer to the time for him to be sent to Spain the decision was made to send him back to the States. The asked Dad where he would like to be stationed and he requested Rapid City. Have you ever heard of anyone actually getting stationed at the base of their choice? Well, sure enough, orders came through and we were all going back "home".

May 6, 1963 Dad sent Mom a letter from Morocco telling her they were going back to Rapid City.
Click on the letter to read it.
When Mom got the letter she sat there and cried tears of joy. Lila went running next door to tell Grandma McKinney. When she got there Grandma asked her what her mother was doing. "Setting over there crying," said Lila. "Then tell her to come over here and cry," replied Grandma.
We also realized another reason for being in Baltimore during that time. One rainy day Mom noticed that Grandma's curtains were not yet opened. When she went over to check on her, she found her in bed too sick to get up. Mom took her to the doctor and she was immediately admitted into the hospital. They did surgery on her and found a blocked bowel. The doctor told Mom that it was a good thing that she got her in as soon as she did. Otherwise, she would have died. Praise the Lord. He always has us where we need to be at the time.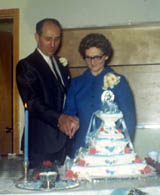 In December 1969, Dad and Mom celebrated 25 years of marriage together.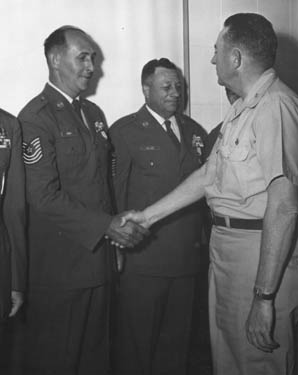 Retirement day 31 May 1967
Ellsworth AFB, Rapid City, SD
Dad was highly decorated. Click here to see his medals.
To go to the last days of the war.
Home

To go to years after retirement.